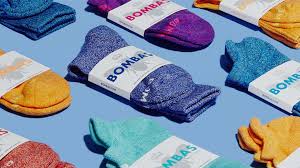 I have been intrigued, this holiday season, by the concept of companies loosely known as "For profit charities." These are businesses that give away a share of their profits for each item you buy.
The company that first came to mind was Bombas socks. Their ads tell us that for every pair of socks you buy, they donate a pair to someone in need. I saw an interview with the two owners of the company that explained they add the cost of the second pair of socks into their cost structure before marketing and promoting their selections.
I checked out their website and while you might consider their prices a bit high, when you consider there is a charitable function at work, you give their price structure a second look. As recent as a year ago, before the new tax laws, I might have preferred to consider my own choices for places to spend my charitable efforts. Now, it is harder to declare charitable giving for most of us middle classers so I have nothing to lose by letting others give to the charities of their choice with my money.
As I started to consider Christmas gifts for my loved ones, why wouldn't I want my dollars to help those less fortunate?
This is a company that started with their hearts in the right place. They were committed to making Bombas a desired place of employment. As a result, they do not lose staff to other opportunities. In fact, only three employees have left, according to an article in Inc.. Bombas employees have a good thing going and they know it. This company has established a contingency fund, known as a situational fund, that exists for the employees for unforeseen circumstances. Add to that unlimited vacation time, unlimited at home work time and unlimited sick time and you have created an atmosphere that is hard to beat.
They are not alone. Companies like TOMS shoe, Warby Parker eye ware, Better World Books and Figs, medical ware and you can begin to see a growing trend. How long will it be before Chevrolet gives away a car for every one you buy. One can only hope.
So, when I sat down to pick out presents this holiday season, one of my first stops was Bombas socks. Maybe my kids will say, "oh, how nice, what an original idea, socks for Christmas." Mind you they won't say that out loud but… In my mind, I know there will be someone, maybe a family in need, that will cherish their socks for the warmth that is missing in their lives. Maybe it will lift their hopes for a better year to come. Maybe provide the final motivation to do whatever it takes to turn their situation around. One person's pair of socks is another's Christmas bonus.
Isn't that what Christmas is all about. I have published three books that implore people to make a difference in the world, to lift each other up, to touch people in a positive way. There is never a better time of year to act on such a goal, to take your eyes off of yourself. The proverbial gift that keeps on giving.
Reach out this season. Drop your loose change in a red kettle, but don't stop there. Take a step beyond your loved ones and make someone's holiday special. Buy a pair of socks!